About Chartwell Stables - Children's Riding School
Over 30 years of producing champions.
Primarily a children's riding school, Chartwell Stables (established in 1987) is owned and run by Shirley Sadleir, a veterinary nurse by background, who has spent her entire life with horses in general and riding schools in particular.
There are at the moment 45 horses of whom 15 are liveries and 30 are wonderful, riding school ponies. Chartwell Stables is ideally situated in Chartwell, only 2 minutes from Broadacres Shopping Centre and 5 minutes from Fourways.
Chartwell Stables employs 2 instructors under the management of our stable manageress. We cater for all levels of riding from the complete beginner right through to advanced riders. We prepare children for all disciplines of horse riding and offer show help should your child wish to compete. We are also very happy to help your child find the right pony when the time comes.
Chartwell Stables have some very competitive children riding on their own ponies at the highest competitive level (representing their province and schools). On the other hand we also cater very much for children who JUST WANT TO HAVE FUN.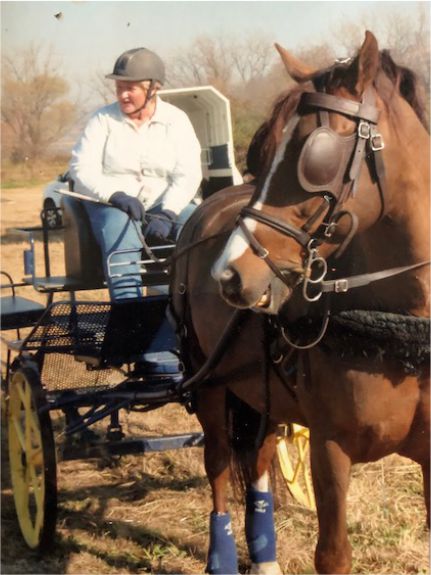 Shirley Sadleir
Owner
My father always said that his biggest mistake was spending sixpence on a donkey ride at a fair for me and my sister, Marion Clough, when I was four years old. Of course, my life has revolved around horses ever since. We made him give up his weekend golf and he then ran the Rhodesian Horse Society for 25 years, so he certainly indulged us in our passion.
I grew up on horses in Zimbabwe and competed at a good level there in showjumping, eventing and dressage. I then went straight to work in professional yards in England when I left school in the 60's and stayed for seven years.
I worked at the Keston Welsh Mountain Pony Stud and then under John and Jane Kidd, who were pioneer warmblood breeders and doyennes of almost every discipline. I also learnt much working for Roger Stack, an esteemed showing and horse-care professional.
Veterinary work became my professional focus and I trained a veterinary nurse and married a vet.
We moved back to Southern Africa and I have been deeply involved in equestrian matters since. I sat as chairman of showing for around five years in the late nineties – I continue to judge showing classes.
I have owned and run a children's' riding school for 40 years and have helped produce very many competitive riders.
I have not ridden for years but I enjoy carriage driving most days. I did compete for several years in this discipline but now drive socially and at weddings and other functions.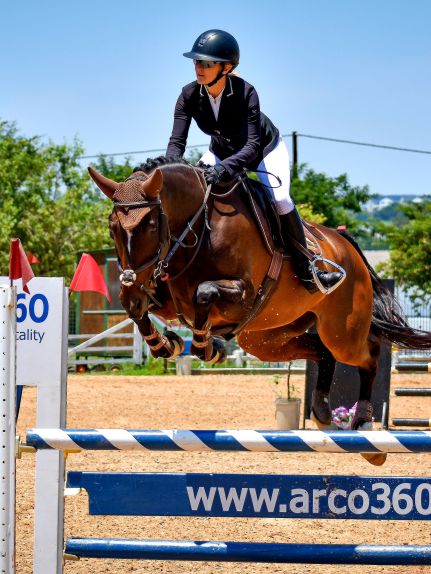 Kirsten Nel
Full Time Instructor and Yard Manager
Hi, I'm Kirsten. I fell in love with horses when I was 5 years old and have 30 years of horse experience.  I've come on board to manage the yard, teach and school horses. I am EQASA level 1 qualified, have a certificate in Masterson massage and am constantly doing courses as I believe we never stop learning. I like to keep my lessons exciting and have taught many competitive riders and helped them reach their goals. I am passionate about all things horse-related and believe in creating well-rounded horsemen and women rather than just riders. I ride competitively and have 2 incredible horses who I am taking up the grades. I have lessons with professional rider Johan Lotter who has competed internationally and I try to incorporate what I learn there in my teaching. I hope to inspire everyone I meet to love horses as much as I do.
My favourite quote is "Flaming enthusiasm, backed up by horse sense and persistence, is the quality that most frequently makes for success."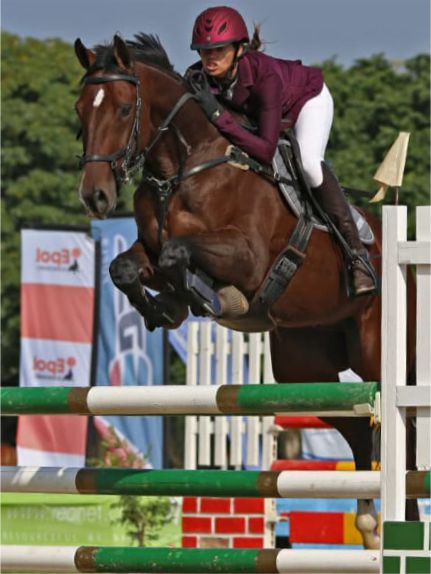 Whitney Deverneuil
Part-time Advanced Coach
Hi, my name is Whitney, I am the part-time advanced Coach at Chartwell Stables. I am EQASA module 3 qualified; I am also a qualified A-Panel Equitation judge. I am currently competing in Show Jumping at 1.30m aspiring to jump 1.50m and the Derby in the near future. I have competed in the top level of Eventing, Showing and Equitation. I am extremely passionate and energetic and I absolutely love teaching kids. I will always be at my rider's side when competing at shows.
My favourite quote: "Let your training be your silence and let your performance be your voice!"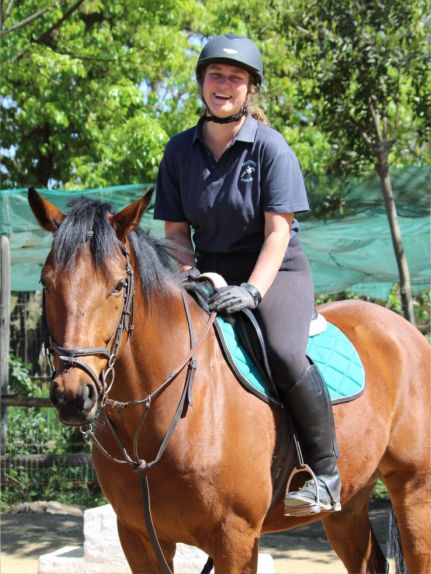 Kimberleigh Hill
Full-time Instructor
Hi, my name is Kim, I am 23 years old, I come from a horse-loving family with years of experience with horses having lived with and around them my whole life. I grew up in Mauritius where my mother ran a horseback trails business for several years. I was part of the team that trained and rehabilitated ex-racehorses. I then moved to South Africa where I competed mainly in show jumping and equitation. I represented my province in both disciplines through SANESA. I then moved to Botswana where my mother managed a horseback Safari company and I shadowed her all the way. With living in the bush I have developed a  passion for wildlife through photography and learned to appreciate nature in its full form. I am currently studying through ETI (Equestrian training institute) doing Equine Sciences. I am very passionate about kids and horses, and I love every moment of teaching.
My favourite quote: "People rarely succeed unless they are having fun in what they are doing"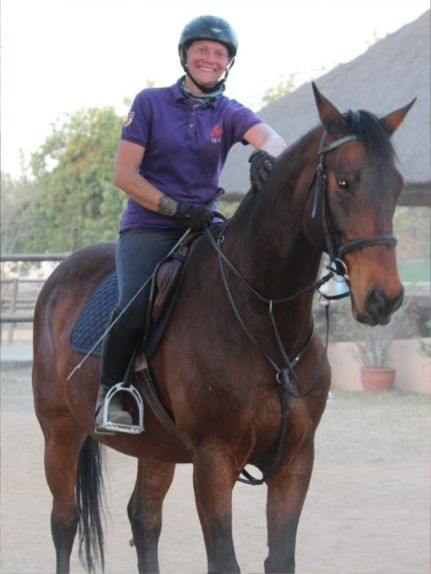 Karen van Rooyen
Full-time Instructor
Hi, my name is Karen, I am 37 years old. I am a full-time instructor at Chartwell Stables. I am a very energetic and Passionate instructor and I will never give up until I know something is 100%. I will go all out for every single rider and give my best in every single lesson; I am always willing to go out to shows with my students. I am experienced in all disciplines of horse riding. I will always put time aside to teach anyone, whether it is about putting tack together, saddling up, medical care of horses or any other knowledge that I can share. I am very passionate about kids, and I love building them up to their full potential. I am currently studying towards obtaining my certification in Stable Management, Equine sciences and horsemanship through the online FEI campus. I will be writing my EQASA exams in the first term of 2022. I would love to study course building in the near future.
My favourite quote: "When in doubt shorten your reins and add leg"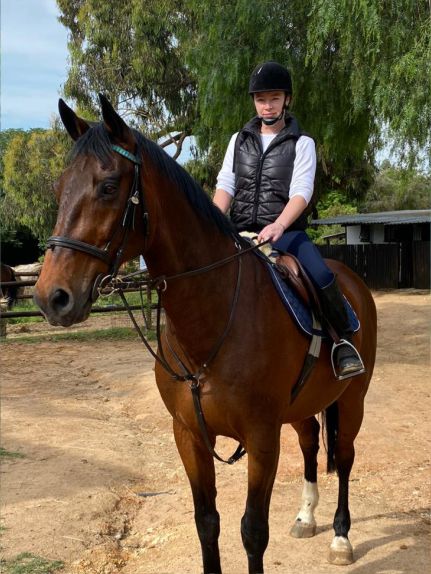 Shannon Koen
Part-time Instructor
Hi, my name is Shannon Koen, I am 25 years old. I am a part-time instructor for Chartwell Stables. My full-time job is as a sales administrator for an IT company. I have been riding horses my whole life and I have always had the best support system from my family. My Grandfather used to call me his "Little Jockey" and although I never actually became a Jockey he always supported my Show Jumping. Between him and everyone else in my family I most certainly know how to grip with my knees! Horses are my biggest passion in life, and even the worst of falls are all worth it. I love teaching kids how to ride and when they get something right and that little light in their minds go off, that moment makes my day.
My favourite quote: "A horse doesn't care how much you know until he knows how much you care"
Chat to us
Feel free to get in touch with us should you have any questions or would like to arrange a visit.